Nebula Mars II vs Mars II Pro vs Nebula Cosmos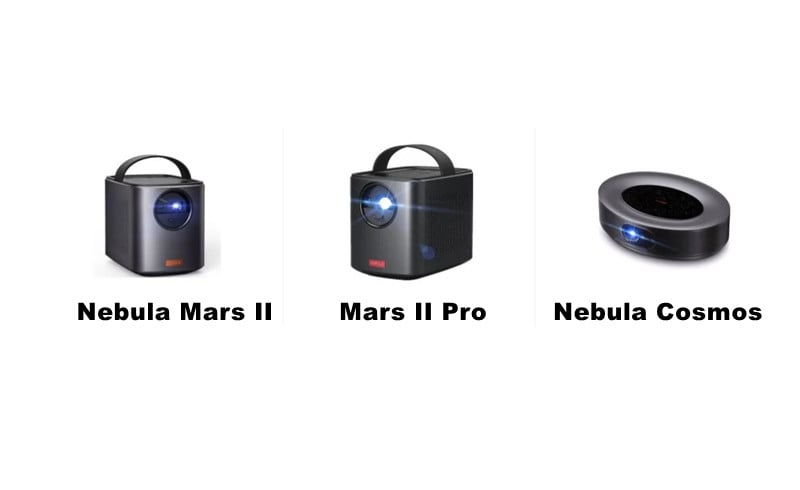 Nebula Mars II, Mars II Pro, and Anker Nebula Cosmos are all DLP projectors from Anker. They all use LED light sources and have the same throw ratio of 1.2:1. But they have different brightness, image resolution, and smart features.
See the side-by-side comparison below to know more about their differences.
Optical Parameters
Brand

Brand

Nebula

Nebula

Nebula

Brand Model

Brand Model

Nebula Mars II

Nebula Mars II Pro

Nebula Cosmos

Brightness (ANSI lumens)

Brightness (ANSI lumens)

300 ANSI lumens

500 ANSI lumens

900 ANSI lumens

Display Chip

Display Chip

0.3-inch DLP Chip

0.3-inch DLP Chip

0.33DMD in 1080p DLP

Display Technology

Display Technology

DLP

DLP

DLP

Standard Resolution

Standard Resolution

1280x720P

1280x720P

1920x1080

Maximum Supported Resolution

Maximum Supported Resolution

1080P

1080P

4K

Image Contrast Ratio

Image Contrast Ratio

1000:1

1000:1

1000:1

Throw Ratio

Throw Ratio

1.2:1

1.2:1

1.20:1

Keystone Correction

Keystone Correction

Auto (vertical ±40°) Manual (horizontal ±40°)

Auto (vertical ±40°) Manual (horizontal ±40°)

Auto (vertical ±40°) Manual (horizontal ±40°)

Lamp Life

Lamp Life

30,000 Hours

30,000 Hours

30,000 hours

Lamp Type

Lamp Type

RGB LED

RGB LED

LED

Focus technology

Focus technology

Auto

Auto

Auto
Projection Parameters
Product type

Product type

Portable projector

Portable projector

Home projector

CPU

CPU

Quad-Core A7

Quad-Core A7

Quad Core A55 Chipset

RAM

ram

1GB

2GB

Storage

Storage

8GB

8GB

Operating System

Operating System

Android 7.1

Android 7.1

Android TV 9.0

content

content

YouTube, Netflix, Hulu, and more

YouTube, Netflix, Hulu, and more

Hulu, Disney+, HBO, and more

Image Size

Image Size,projector1

30"–150"

30"–150"

30-120inches

Screen ratio

Screen ratio

16:9

16:9

16:9

Image Technology

Image Technology

HDR 10

MEMC

MEMC

Yes

Bluetooth

Bluetooth

Bluetooth 4.0

Bluetooth 4.0

BT4.2 Dual Mode/A2DP

3D

Stereoscopic film is a type of film that was first introduced in Hollywood on May 24, 1953 when stereoscopic films appeared.

Yes

Sound System

Sound System

Dolby Audio

Projection method

Projection method

Front Projection / Rear Projection / Front Inverted Projection / Rear Inverted Projection

Front Projection / Rear Projection / Front Inverted Projection / Rear Inverted Projection


Front Projection / Rear Projection / Front Inverted Projection / Rear Inverted Projection
Time to market

Time to market

2020
Ports
I/O Connection Ports

Connection Ports

USB 2.0
HDMI 1.4
AUX-Out USB 2.0
HDMI 1.4
AUX-Out Audio Out: Optical
HDMI 2.0
USB
Wireless Networking
WiFi

WiFi

Yes

2.4 / 5GHz Wi-Fi

802.11a/b/g/n/ac

Bluetooth

Bluetooth

Bluetooth 4.0

Bluetooth 4.0

BT4.2 Dual Mode/A2DP
Other
Size(HxWxD)

Size(HxWxD)

122*138*178mm/4.8*5.4*7 inches

122*138*178mm/4.8*5.4*7 inches

11.42"x 7.80" x 3.62"

Power Usage

Power Usage

57W

57W

120 Watts 100V - 240V

Noise Level

Noise Level

<32dB

<32dB

Machine weight

Machine weight

1483g

1483g

2.0 kg

Accessories

Accessories

User Manual
Power Adapter
Power Cord
Remote Control with batteries User Manual
Power Adapter
Power Cord
Remote Control with batteries

remote, quick start guide, adapter, 12-month warranty

Warranty

Warranty

1 year

1 year

1 year

Battery

Battery

12500mAh, about 3h

12500mAh, about 3h

No