JMGO N1 Pro vs JMGO N1 Ultra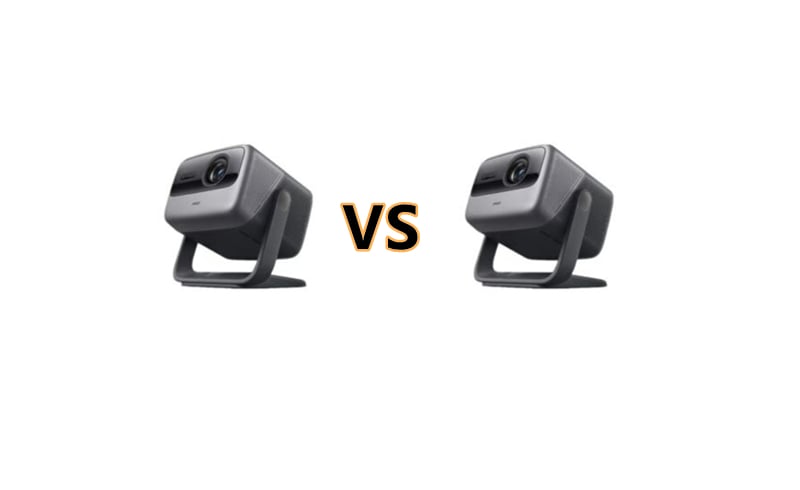 JMGO N1 Pro and JMGO N1 Ultra are both new laser projectors released in 2022. What are the differences between the two projectors?
The two projectors have the same 0.47″ DMD chips and a throw ratio of 1.2:1, but they are different in terms of brightness, resolution, and power consumption.
JMGO N1 Pro projector has 3,200 ANSI lumens, while JMGO N1 Ultra has 4,000 ANSI lumens. The bigger the lumens figure, the brighter the projector. If you want to use the projector under ambient light, then you need to choose a projector with high brightness.
Regarding resolution, the JMGO N1 Pro projector has 1080P but JMGO N1 Ultra has 4K resolution. The higher the resolution, the better the image quality.
In terms of power consumption, JMGO N1 Pro is 150W while JMGO N1 Ultra is 180W.
Optical Parameters
Brand

Brand

JMGO

JMGO

Brand Model

Brand Model

JMGO N1 Pro

JMGO N1 Ultra

Brightness (ANSI lumens)

Brightness (ANSI lumens)

3,200 lumens

4,000 ANSI lumens

Display Chip

Display Chip

0.47''DMD

0.47''DMD

Display Technology

Display Technology

DLP

DLP

Standard Resolution

Standard Resolution

FHD (1920*1080)

4K (3840x2160)

Maximum Supported Resolution

Maximum Supported Resolution

FHD (1920*1080)

4K (3840x2160)

Image Contrast Ratio

Image Contrast Ratio

1,600:1

1,600:1

Throw Ratio

Throw Ratio

1.2:1

1.2:1

Keystone Correction

Keystone Correction

6-direction keystone

6-direction keystone

Lamp Type

Lamp Type

laser

laser

Projector lens

Projector lens

Glass & resin

Glass & resin

Focus technology

Focus technology

Auto

Auto
Projection Parameters
Product type

Product type

Laser projector

Laser projector

CPU

CPU

MT9669

MT9669

RAM

ram

4GB

4GB

Storage

Storage

64GB

64GB

Operating System

Operating System

Android 9.0

Android 9.0

Image Size

Image Size,projector1

100" - 150"

100" - 150"

Screen ratio

Screen ratio

4:3/16:9

4:3/16:9

Screen color

Screen color

110% BT.2020

110% BT.2020

Image Technology

Image Technology

HDR

HDR

MEMC

MEMC

Yes

Yes

Bluetooth

Bluetooth

Yes

Yes

3D

Stereoscopic film is a type of film that was first introduced in Hollywood on May 24, 1953 when stereoscopic films appeared.

Yes

Yes

Sound System

Sound System

Dolby Audio(20W speaker)

Dolby Audio(20W speaker)

Projection method

Projection method

Table Front Projection; Ceiling Front Projection; Ceiling Rear Projection; Table Rear Projection

Table Front Projection; Ceiling Front Projection; Ceiling Rear Projection; Table Rear Projection

Time to market

Time to market

2022

2022
Ports
I/O Connection Ports

Connection Ports

USB 2.0 *1
HDMI 2.1 *1 USB 2.0 *1
HDMI 2.1 *1
WiFi

WiFi

Yes

Yes

Bluetooth

Bluetooth

Yes

Yes
Other
Size(HxWxD)

Size(HxWxD)

220×220 × 150mm

220×220 × 150mm

Power Usage

Power Usage

150W

180W

Noise Level

Noise Level

≤26dB

≤26dB

Machine weight

Machine weight

4.5kg

4.5kg

Accessories

Accessories

Power adapter * 1
Bluetooth remote control * 1
User guide / after-sales service card * 1 Power adapter * 1
Bluetooth remote control * 1
User guide / after-sales service card * 1