Nowadays home projectors tend to to have the built-in Android TV support as one of their key selling points. With Android TV projector, we won't need an additional streaming device such as TV Box or TV stick anymore. The Android TV feature can help you cut the cable cord and stream all the content you want from the Internet direct to your projector.
Things you should know before buying an Android TV projector
The so called Android TV projector, are projectors that run on the Android operating system, which means you can download apps from the Google Play Store, including apps such as Netflix and Amazon Prime. We no longer concentrate merely on the hardware of projectors, no longer cares only about the lens, the light source or speakers. Because projectors are entering people's life as more of a TV placement. That's why projectors with smart operating system is gaining the upper hand.
Generally speaking, you can connect Android TV boxes to the projector, or insert the Android TV stick into the port of projector to stream all the content you want from the Internet direct to your wall or screen. This is quite a convenient operation already, but if you want more than that, Android TV projectors can cater your need of full cinema experience. In another word, you would not have to prepare an additional streaming device anymore, the Android TV box or stick has built right into the projector system, and all you need to do is to get access to the streaming Apps directly after you turn on your Android TV projector.
We made a list of the best Android TV projectors and analized their pros and cons. Also, we've concluded several things that you need to know when choosing an Android TV projector.
Our Picks for the Best Android TV Projector
1. BenQ V7050i
$3,049
Pros:
Ultra short throw
Laser light source with 20,000hours lifespan
4K resolution
Supports HDR10 and HLG
Cons:
80ms input lag
Maximum screen size is 120 inch
The BenQ V7050i is a high-end 4K HDR-capable cinema projector. In terms of brightness, the stated 2500 ANSI lumens is more than sufficient for daytime viewing on the recommended screen size of up to 120-inches, though you'll always benefit from killing all the light. BenQ V7050i supports both HLG broadcast format and HDR10 cinema format.
Not like the projectors build an Android system into the unit itself, BenQ opted to separate the functionality, and include it in the purchase. Though the cabling isn't as neat, it has its own merit. At least when you need to upgrade the streaming hardware or replace it, you can do so without changing the entire projector.
2. Anker Nebula Cosmos
$799
Pros:
Long lamp life with 30,000 hours
FHD1080p resolution
Supports HDR10 and HLG
Great sound
Cons:
Average brightness of 900 ANSI lumens
Maximum screen size is 150 inch
Anker Nebula Cosmos is equipped with LED light source and a DLP chip that produces Ultra HD resolution, it supports HDR10 and HLG and covers most of the P3 color gamut. With Android TV 9.0 built-in, you can stream through a large selection of apps. Or connect a disc player or cable/satellite receiver to one of the HDMI 2.0 ports to watch TV on the big screen.
Its 900 ANSI lumen LED lamp makes enough light output to work well in small to medium-sized media rooms, but with the most lights out. With a maximum output of 20W and incredible bass management as well as the diffusion system with Dolby Digital Plus support, Anker Nebula Cosmos sound is enveloping and room-filling.
3. XGIMI MoGo Pro
$579
Pros:
Long lamp life
FHD1080p resolution
Cost-effectively
Cons:
Poor brightness with 300 ANSI lumens
Maximum screen size is 100 inch
The display output on the XGIMI MoGo Pro is a DLP chip with FHD (1080p) resolution and 300 ANSI Lumens of brightness. Like most other projectors of this size and price, you'll need to either have the projector close to the wall or in a darkened room to be able to see the image. The projector also accepts 2K and 4K sources via HDMI, resulting in a slightly crisper 1080p image when downscaled.
XGIMI MoGo Pro produces 30 to 100 inches of the projected image. The colors are decent and the image is crisp. This projector ships with Android 9.0 and uses the Android TV interface. When you power it up, the Home page displays new content from your installed streaming services.
4. Epson EF-100B
$999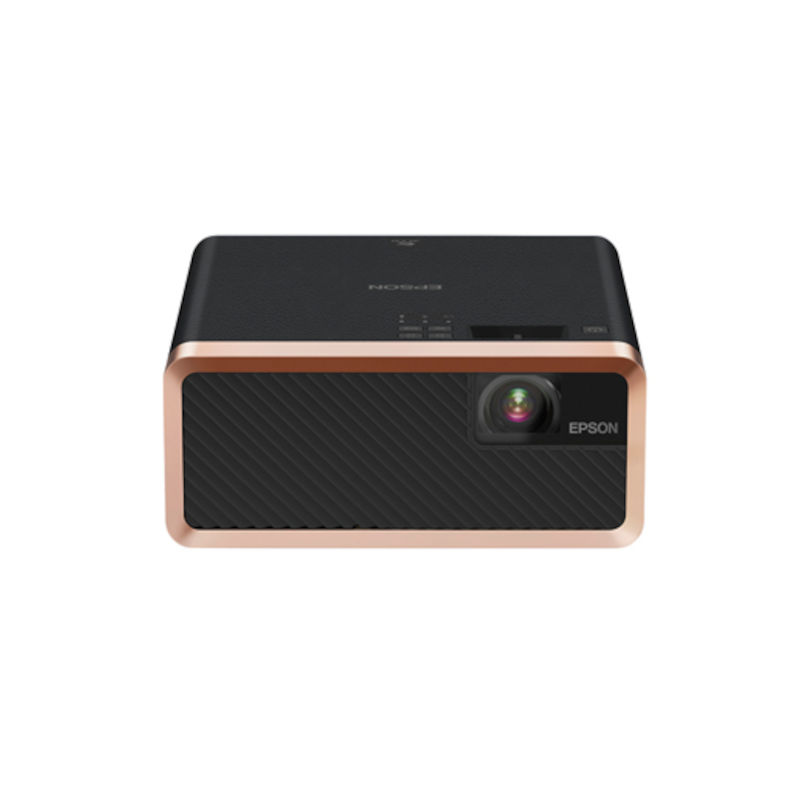 Pros:
Laser light source with a compact design
Good brightness
Good Sound
Cons:
No 3D or HDR support
limited contrast ratio
Relatively low Low resolution
The Epson EF-100, rated at 2,000 lumens, is one of Epson's Streaming Projector With Android TV product lines. Despite its modest 1,280-by-800-pixel native resolution and lack of optical zoom or support for 3D, HDR, or input resolutions above 1080p. What the EF-100 offers instead: all the advantages of a laser light source in what is, the cheapest, most mini home laser projector to date. Since its dimensions are surprisingly 21 cm x 23 cm x 9 cm, and with a weight of merely 2.7 kg.
Three-chip LCD engine eliminates rainbow artifacts and delivers equal color and white brightness. With 30 dB noise emitted, Epson EF-100B is one of the projectors considered silent. Really a budget-friendly option for consumers, a mini laser Android TV projector with good build quality from a famous leading manufacturer.
5. Epson LS500
$2,799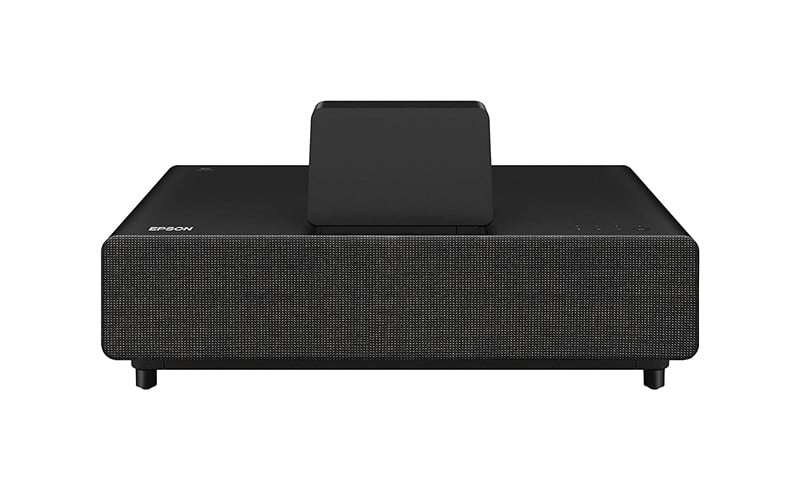 Pros:
3LCD Display
High Brightness
4K resolution
3D
Cons:
Relatively Longer throw for UST Projectors
Cumbersome
The Epson LS500 is an ultra-short throw laser projector with a max image size of 130″. The projector features 4K resolution and 10-bit HDR processing, producing sharp images for viewers. It is rated at 4,000 lumens and you can use it even during the daytime. With advanced 3-chip 3LCD technology capable of displaying the Rec.709 color space, you have no trouble with the rainbow effect.
The projector is powered by a certified Android TV, which has built-in Google Assistant and Google Play store. You can stream content via the built-in apps conveniently. With 3D function, Epson LS500 enables users to play 3D movies at will.
Conclusion:
Smart projectors are taking their place in the market. Because they allow users to get rid of connecting additional streaming devices. We have picked the best Android TV projectors with a range of prices for you. But if you want the most cost-effectively 4K laser projector, Dangbei Mars Pro is definitely your best choice.
Buying Guide for the Best Android TV Projector
As the smart Android-powered projector is gaining popularity in the market, especially in the young people market. there are a number of models out there that have Android TV built-in into the unit. Therefore, knowing some main "must-have" features for an Android TV projector would be helpful when you are assessing any model.
First of all, If you are a beginner at buying a projector that is looking for your first projector, then you may need to learn some basic knowledge about projectors at first. We sincerely recommend you start with the Projector beginner' guide. In this guide we have compiled a complete list of all the projector specs and features that you need to know, and tried our best to explain the profound in simple terms, as shown in the picture below: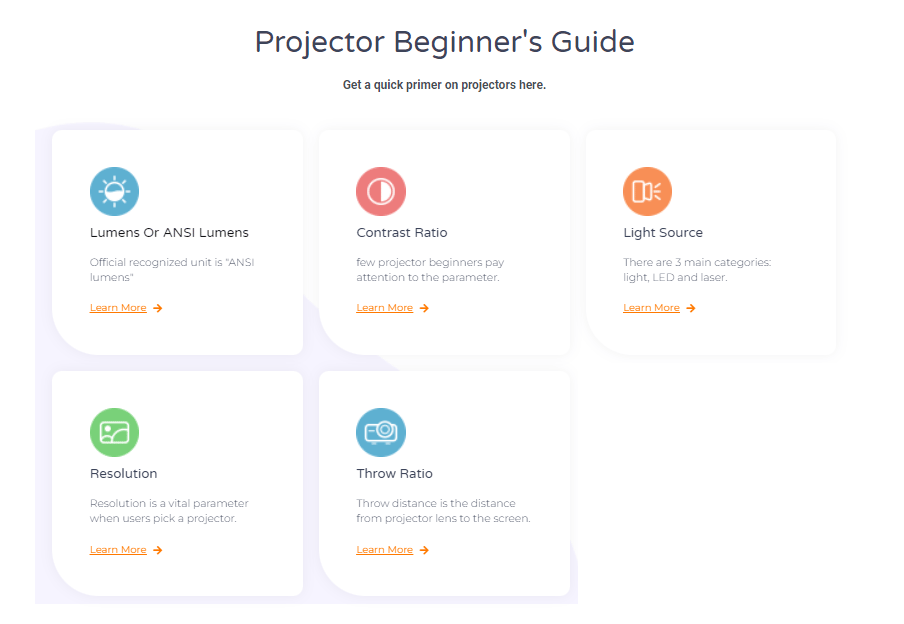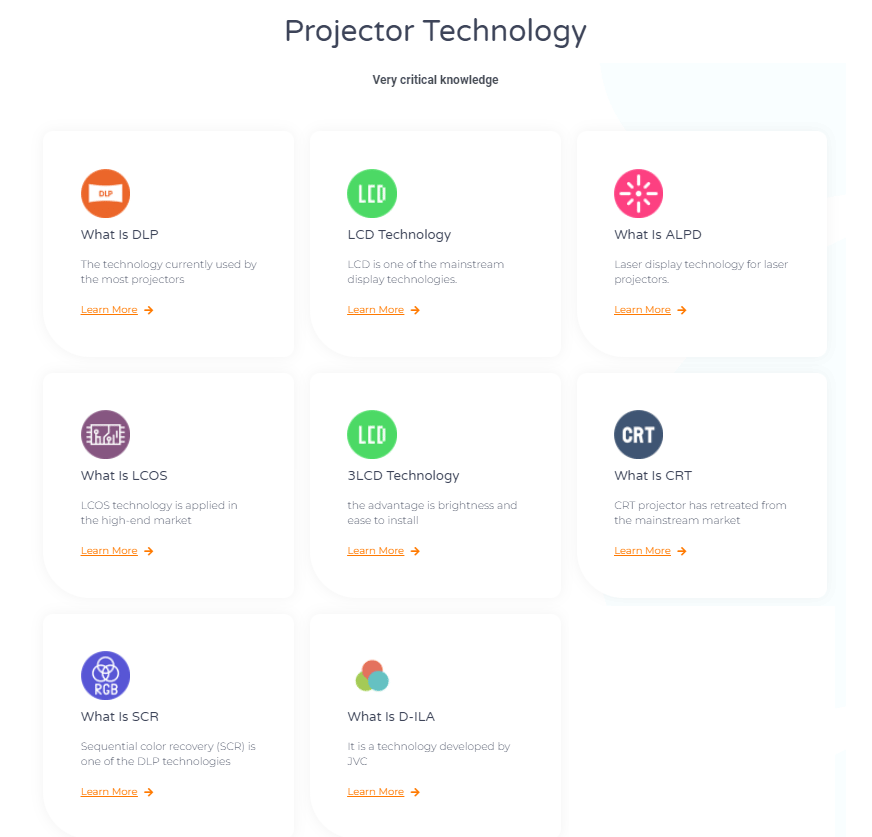 If you don't have the time to learn the tech specs one by one currently, and just want an overview of the projector world, we'd love to recommend you to read this comprehensive and integrated buying guide to gain a preliminary understanding of buying a projector.
On the other hand, choosing a projector from a trustworthy brand would be a shortcut. You don't need to dump into the complicated research to find the best projector, a pojector from a manufacturer that has strong comprehensive strength would not let you down the most time. Read Top 10 Best Projector Brands in The World Market for 2022 to know which manufacturer is the most famous and reliable.
Things you should know when choosing the best Android TV projector
Native App vs Screen mirroring
You will be hard-pressed to find a projector that streams from its native apps in greater than 1080p; some projectors will allow you to stream 4K with other compatible devices, such as a Fire Stick 4K plugged in, but not from your native apps.
Or, you might be thinking that you won't need a projector with Android TV built in. Because you have some streaming Apps already like Netflix on your smartphone. Playing the content on your phone and then mirroring the screen on the projector would be the solution. However, If you try it you would end up failing to mirror any copyrighted content. To protect their intellectual property, the Netflix and Amazon Prime App on your smartphone will block you from casting the screen onto your projector.
Android 9.0 Pie would be the best option
If you are buying a new Android TV projector, you should really go with something that is operating on Android 9.0 Pie, which is the operating system specifically designed for Android TV. This means that it works better in the more restricted TV environment and prioritizes streaming tasks over other functionality for the best possible performance.
FAQs for Choosing the Best Android TV Projector
Q: Is There A Projector App For Android?
A: The best app for sending content from your Android device to a projector will depend on the type of software the projector is running. But it is usually simple to share content from your smartphone to your projector by screen mirroring.
Q: Can I Watch TV On a Projector without built in Android TV?
A: Yes, you can watch TV on a non- Android TV projector, as long as it has an HDMI input cable, or it is a smart projector. You can watch TV on the projector by plugging in an Android TV box. This will allow you to stream content, or connect to live TV.
Q: Can I Watch Netflix or Prime Video On A Projector?
A: You can watch Netflix on a projector, but not via screen mirroring. Due to App copyright, Prime Video, Hulu, Netflix, blocks this functionality to avoid the illegal display of their content. This is one of the reasons to get an Android TV projector, as you can access thier content directly through the native apps in the projector.
Related post: